Events
---
Colossians 1:25, 27 - make the word of God fully known… Christ in you, the hope of glory…Him we proclaim…
Throughout the year, we have a number of events that will encourage, enrich and empower you in your journey. Whether through an easy on-boarding event like the Women's Christmas Dinners or summer socials, to a deeper experience such as Worship Nights or Retreats, you will find events that will bless and encourage you!
Watch this space throughout the year for details of upcoming events.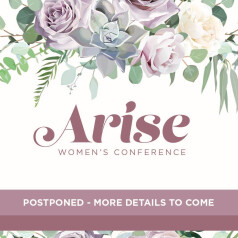 EVENT POSTPONED
In light of all that is happening with the Coronavirus, our Arise Women's Conference has been postponed. We are currently working on a future date for this coming fall. All present registrations will be rolled over and our prayer is that you would still be able to join us. However, due to various circumstances, if you would prefer a full refund please contact us to let us know and we would be happy to do that for you!
Thank you for understanding this decision. We are continuing to pray for you and your families during this season. Would you please join us in praying for the Lord to draw more people than ever to Him right now. Let's model trusting God and loving others like never before!
---