Bible studies
---
Colossians 1:9 - be filled with the knowledge of his will in all spiritual wisdom and understanding…
One of the greatest ways to be filled is to spend time in the presence of Jesus and in His Word! We are told not to forsake getting together, and as women, we love to do just that! Our Bible Studies provide an opportunity to grow in knowledge and spiritual understanding as we go deep thru avenues of worship, teaching, exploring the Word, and small group discussion times.
We encourage you to join us as we passionately pursue being filled up to be poured out - for an audience of One, and for the sake of one!
---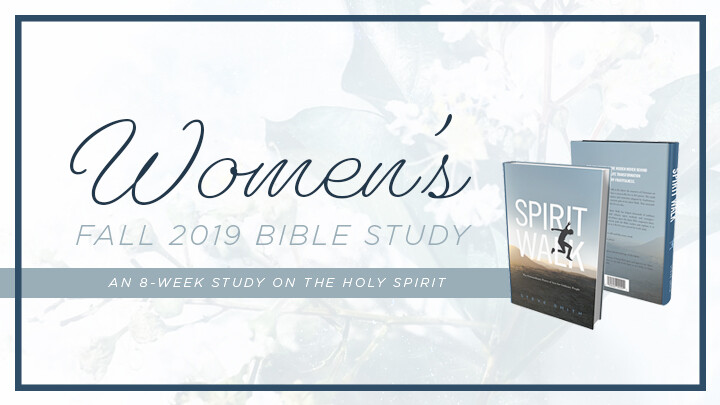 Online Pre - Registration For Thursday morning is currently closed but we WELCOME you to register on site the day of!
Thursday Mornings, starting September 12th, @ 9:30 a.m. in the Main Worship Center lobby.
Monday Evening, starting September 16th, @ 6:30 p.m. in room 206 of the Main Worship Center.
Cost: $25
Childcare available for Thursday morning only.
This September, we are excited to be studying, Spirit Walk, by Steve Smith. Join us as Steve's wife, Laura Smith, takes us through this practical and powerful teaching on the Holy Spirit.
"It's true that Christianity is hopeless without the Holy Spirit." Jim Cymballa, Senior Pastor of The Brooklyn Tabernacle
Are you frustrated or feel hopeless in your faith journey? Do you struggle to just get through each day, yet alone get through it with joy and victory? Are you hungry to know deeper truths of God or feel there has to be more? Do you long to walk in greater strength, courage and power?
"Though we know the Bible says to walk in the Spirit, the majority of Christians are illiterate (and even nervous) about how to practically live in His power. The result is lives marred by continued brokenness and ministries plagued by fruitlessness. In contrast, believers from Acts understood the ancient path of the Spirit Walk. That extraordinary power was not just for them, but for us also."*
This 8 week study will bring insight, understanding and knowledge to the gift that God has given us through the Holy Spirit. Whether you feel young in your faith or more seasoned, "Discover how to start on the journey of being filled again and again by the Spirit. But more importantly, learn how to stay full of the Spirit as you abide in Christ throughout the day, and your life."*
*Excerpt from the back of Spirit Walk

If you have any questions please contact us at .