The people of Ukraine are suffering and in need of help from those of us who are able. Disasters like this are devastating, and they bring about an incredible opportunity for WoodsEdge and our city to show Christ's love and generosity. WoodsEdge is working with Sports Catalyst and other local churches to meet needs of the Ukrainian people, displaced and driven from their homes. As specific opportunities become available, we will post them below.
Beginning May 15, we will have the opportunity again to collect supplies for Ukrainian refugees. Bins will be placed in the lobby of the Pavilion and outside of the Worship Center on Sundays and Wednesdays, as well as in the Ministry Teams building during the week. Please bring items with you, and let's continue to bless the people of Ukraine with your generous giving! A complete list of items needed can be found below.

BINS WILL BE AVAILABLE FOR DONATIONS UNTIL MAY 29.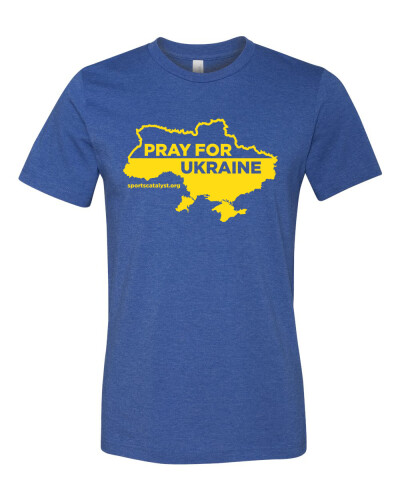 Also beginning on May 15, we will have shirts for sale in the lobby of the Pavilion and the Worship Center. The proceeds from these shirts will benefit Sports Catalyst and the work that is being done in Ukraine and the surrounding areas. Please consider purchasing a shirt and wearing it to show your support for Sports Catalyst and the Ukrainian people. More information on the shirts will be available soon.
Additional info about our partner ministry in Ukraine can be found here:
We are so grateful for your outpouring of giving to Ukraine. You have gifted over $1 million in relief funds to aid rescue efforts, purchase food and supplies, and share the gospel to those desperately needing hope. Please continue to pray for the people of Ukraine!