Staff
Select a Team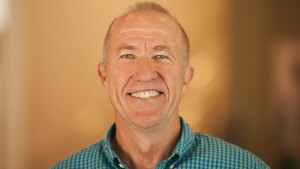 Jeff Wells
Senior Pastor & Elder
office: 281-298-4564
Jeff, the founding Pastor at WoodsEdge, grew up in Madisonville, Texas. He became a believer in the summer before attending Rice University where he majored in History and was a four-time All-America recipient in track and cross country. While at Rice, he also received the Bob Quin Award as Outstanding Student Athlete.
Jeff is a graduate of Dallas Theological Seminary where he earned the Master of Theology and Doctor of Ministry degrees. Jeff and his wife Gayle met in Oregon where Jeff was serving in a church internship and running for Nike. When they met, Gayle was working as a nurse.
Jeff and Gayle have three children Sarah, Callie, and John Paul. Sarah is married to Michael Grenz and they have three children - Ryanne Elizabeth, Barrett Michael and Evelyn May. Callie is married to Paul Thomas and they have one daughter named Wren. John Paul is married to Michelle and works with Oracle Corporation. Jeff's hobbies include reading (read his book reviews here), running and anything outdoors with his family.

December 2014, Jeff published his first book The Great Verses and published his second in 2016. He has just published a new Great Verses coffee table book. All three are available for purchase at JeffHWells.com.